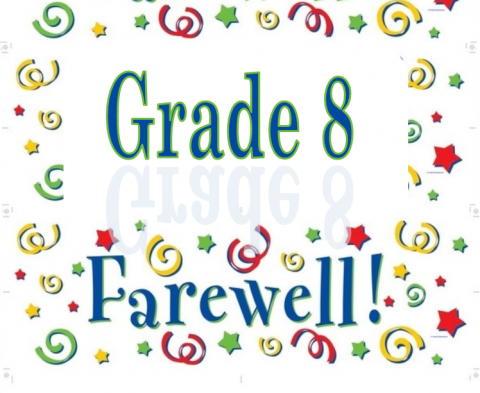 May 27th, 2021
Dear Parents/Guardians of Grade 8 Students:
June is almost here and with that comes the end of your child's elementary school experience! In an attempt to honor this milestone, while also adhering to SHA guidelines and protocols outlined by Regina Public School, we are going to providing the following opportunities to celebrate our Grade 8 students.
On Monday, June 28th, 2021, the school will be holding a Grade 8 Farewell Ceremony in the school's gymnasium starting at 3:00 PM. Only the Grade 8 students and staff will be permitted to attend in person. The school will provide a link for parents/guardians/family members to celebrate online with the students and staff. The ceremony will include speeches, awards, and the presentation of certificates. We anticipate the ceremony to be 30-45 minutes in length. Depending on which online platform we use to broadcast the ceremony, we will then provide the link of the recording to all families afterwards.
Following the ceremony, families are welcome to come to the school to take pictures with their Grade 8 student outside of the school. We will have two official spots for pictures, but parents are welcome to take photos in other locations outside of the building. The two official locations will be a) the school sign, and b) a balloon arch ordered by the school. Due to COVID restrictions, we CANNOT have all families come for pictures at the same time. In order to accommodate everyone, we are asking that families sign up for a twenty minute time slot via School Soft Conference Manager by clicking on the a following link which will be live for online bookings as of Tuesday, June 1st, 2021: https://reginapublic.schoolsoft.com. This is the same system we used for conferences so you should already have an account set up. If not, you will have to set one up before booking your picture time. Families MUST only attend at their allotted time. Five families will be able to book into each twenty minute slot.
We have been advised that we are unable to provide food or beverages due to SHA restrictions so any celebration including these items must be done at your own homes.
As a school team, we are excited to be able to celebrate our Grade 8 students and the time they have spent at Dr. George Ferguson School. We wish them well in all of their future endeavours and hope that high school is an enjoyable experience for all.
If you require any further information or if you have any questions/concerns, please feel free to contact the school at (306) 791-8582.
Sincerely,
Jillian Sutherland (Principal)
Stacey Bradley (Vice-Principal)
Payton Kuster (Grade 8 Teacher)
Shaun Quinney (Grade 8 Teacher)
Lydia Leung (Grade 8 Teacher)