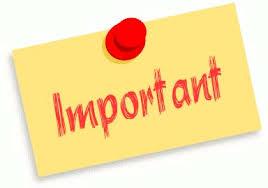 Dear Parents/Guardians:
March is shaping up to be a very busy month and we want to make sure that you don't miss out on anything (see attachments below). If you have any questions/concerns, please let me know. Please be advised that all of these events are time sensitive and there are due dates for each that need to be adhered to:
Three-Way Conferences – March 18th  for just Pre-K and Kindergarten students and March 19th  for Pre-K to Grade 8 students – conferences MUST be booked online using the School Soft link - https://reginapublic.schoolsoft.com – all conferences must be booked by 8:00 PM on March 17th– if you need assistance, contact the office
Landmark Cinemas Movie Field Trip – March 27th - $9.00 to cover the cost of the movie & bus (food is optional and an extra cost) – due date for permission slips and money is Friday, March 13th –

this event will be cancelled if not enough students return their permission slips and money by Friday, March 13th

Dairy Queen Special Lunch – March 27th – ALL orders must be placed online through Healthy Hunger – cash payments are due in the office March 19th and online payments are due March 22nd
The School Division is sending home a parent letter regarding the STF Sanctions that will take effect on Thursday, March 12th. Please note that these sanctions will impact all extra-curricular activities, as well as teacher availability before and after school.
Landmark Cinemas - https://drive.google.com/open?id=1EedXE18B7KL6dn_adP9Rha_wEXzqNNbA
Special Lunches - https://drive.google.com/file/d/1-MjiuCOYwOziYJCQ8xMR3EyVFTP0g3Qv/view?usp=sharing
Sanctions Letter - https://drive.google.com/file/d/1vvSiuHIODfBifrG_OdviNGOQvSL1cZ_M/view?usp=sharing
If you have any questions/concerns, please feel free to contact your child's teacher or the office directly.