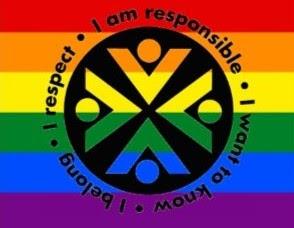 In Regina Public Schools, it is important that we demonstrate our Shared Values that include belonging and respect. As a school division, we are committed to ensuring that schools and workplaces are inclusive and protected environments where LGBTQ2S+ staff, students, families and allies feel included, protected and respected. Regina Public Schools celebrates a system-wide Pride Day every year in June. For 2021, it will be held on Friday, June 4th.
For the week leading up to June 4th, Dr. George Ferguson will be participating in some spirit days to celebrate!   
Please see the list below for the activities:
Monday--Crazy Hair Day

Tuesday-Red and Orange Day

Wednesday Yellow and Green Day

Thursday-Blue and Purple Day

Friday-Rainbow Day
Throughout the week, we will be participating in a variety of literacy and art activities to acknowledge, celebrate, and learn about Pride.  
Happy Pride and happy celebration,
Ferguson School Team and Ferguson GSA